Download Mumble from here:-
http://mumble.sourceforge.net/
Just follow the default for the install... although you only need the
Mumble (client)
selected, not the old version or anything extra.
Follow the sound setup picking the defaults where it allows.
Once installed and setup, add this private server:-
On the Mumble Server Connect Box, click the
Add New
button:-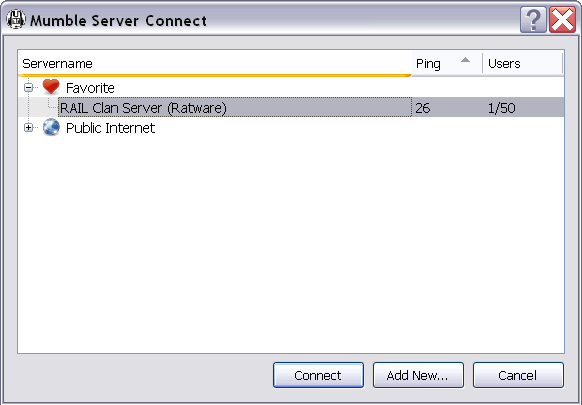 Enter:
Server Name:
Whatever you want to call the server
Address:
server address given, i.e. 111.123.222.001
Port:
port given, i.e. 61001
User Name:
Ratware*
* Your Quake Live name
When you connect you may see a list of rooms to use for general chat, teams etc., if they have been setup.
If you need any assistance on Mumble, please ask me when I am online.
TIP:
To adjust or play about with Mumble whilst in a game, press escape and then click
PLAY IN BROWSER
, top right of the screen, you will now be able to access other windows apps etc... Reverse the process to get back to Full Screen!
EDIT:
For slightly better Microsoft Voices for text to speech, go to:-
http://www.microsoft.com/downloads/details.aspx?FamilyID=5e86ec97-40a7-453f-b0ee-6583171b4530&displaylang=en
And download/install
SpeechSDK51.exeTIPS:-Where are the settings?
Go
Configure
menu and select
settings
or click the last icon button on the toolbar.
Text to Speech (TTS) volume too high and annoying?
Go Configuration, select
Messages
in the left hand box, then adjust the volume control at the bottom, then click
Apply
button.
I need to have Push To Talk (PTT) button setup?
Go Configuration, select
Shortcuts
in the left hand box, click
Add
button at the bottom, a new Function will appear in the box above call
unassigned
, click
Unassigned
and from the drop down box select
Push-To-Talk
, click in the blank space along from what you created and under
Shortcut
, it shopuld now say
Press Shortcut
, then press the key you wish to use for Push To Talk, click
Apply
button.
Other players say my volume is too loud or not loud enough?
You could try running the Audio Wiard againand follow the instructions to the letter

Or adjust the Mic volume from Windows, via Control Panel, Sound & Audio Devices.
Or, go Configuration, select
Audio Input
from left hand box, adjust
Amplification
slider, click
Apply
button.
Other players say my sound is distorted?
As above (last bit) and adjust the
Noise Suppresion
slider.
My Mumble volume is OK, but in Quake the sounds are to loud to hear what someone is saying?
Go Configuration, select
Audio Output
from left hand box, adjust
Attenuate applications by...
slider - the higher the value, the lower the Quake Live volume will be reduced, click
Apply
button.
For further tips, see:-
http://mmo-mumble.com/help/AdvancedOptions
http://www.docstoc.com/docs/3454513/Idiots-Guide-to-Mumble
- note this one is an older version of Mumble, but the principles are the same.